Petit Bonhomme ...
... C'est son surnom affectueux. Il faut dire que Petit Bonhomme a une drôle d'histoire. Il y a peu, je discutais avec une copine que je ne vois qu'une ou deux fois par an, mais par un fait étrange, à chaque fois, on est capables de papoter des heures en oubliant les gens autour de nous.
Cette année pourtant, je l'ai surtout écoutée parce qu'elle en avait gros sur la patate et qu'elle avait besoin de vider tout un tas de trucs qui encombraient sa vie. Des sentiments trop lourds, un dos trop courbé, des moments trop tristes, des épaules trop petites ... Il y avait presque des impressions "d'à quoi bon ?" dans sa voix par moments. C'était étrange, elle avait l'âme comme en steak hâché et vraiment, c'est pas son genre, d'habitude, elle est plutôt du genre indéboulonnable ...
En rentrant à la maison, un peu chiffonnée quand même, j'ai eu besoin d'aller acheter une très grande toile et c'est ainsi que Petit Bonhomme a commencé à se révéler.
Petit Bonhomme, c'est l'ange gardien qui veille sur les cœurs trop serrés, c'est lui qui vous chuchote à l'oreille que même si ça craint aujourd'hui, demain sera un jour nouveau et que même si parfois demain, c'est dans un mois, le renouveau viendra quand même, parce qu'il vient toujours.
Petit Bonhomme, c'est celui qui donne la main pour aider à se relever quand on s'est cassé la figure, c'est lui qui sécurise l'échelle sur laquelle on monte.
Je pense même que Petit Bonhomme, c'est lui qui souffle sur les nuages de pluie pour les chasser et qui sort le soleil du lit chaque matin ...
Little Boy ... It's his affectionate nickname. I have to say that Little Boy has a strange story. A few weeks ago, I talked to a friend that I only see once or twice a year, but strangely, when we met, we talk for hours, forgotting world and people around us.
However this year, I mostly listened because, she had sad mood and neeeded to throw a bunch of stuffs that poisoned her life. Such as too heavy feelings, weather the storm, too mournful moments, feeling like when it rains, it pours ... There were even expressions of depression in her voice. It was weird, her soul looked like a chopped steak and really, it's not her kind, usually, she's playful ...
Coming back home, I was a little grieved and needed to go to the store to buy a large canvas to express my feelings. That's the way Little Boy came to life.
Little Boy, it's the guardian who looks after broken hearts, it's the one who whispers at your ears that even if it's hard today, tomorrow will be better and even if tomorrow will be in a month, it will come anyway, because it will always come back.
Little Boy, he's the one who gives a hand to help when you fall, he's the one who secure the ladder when you climb high.
I'm even sure that Little Boy is the one who blows on the stormy clouds and who brings sun out of his bed every morning ...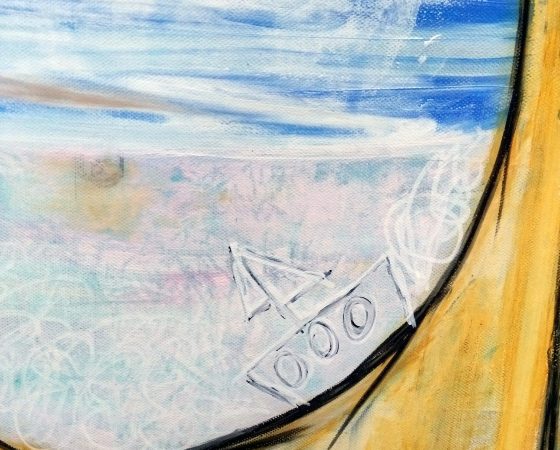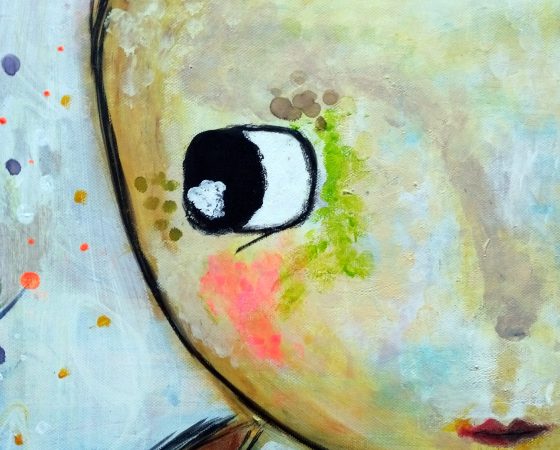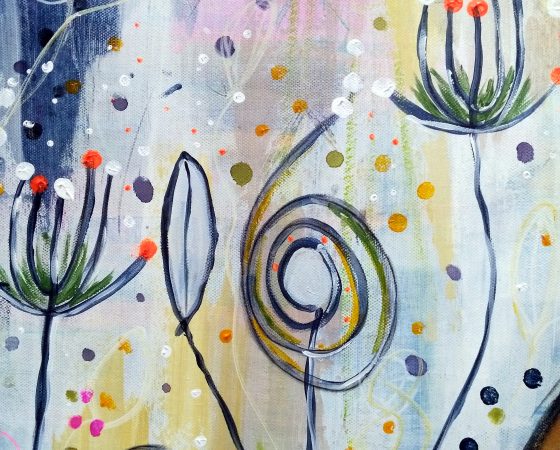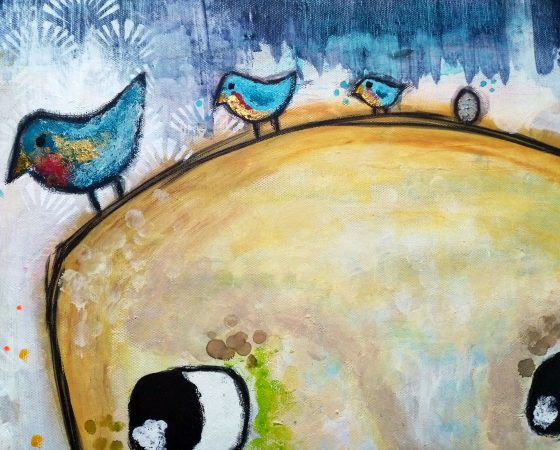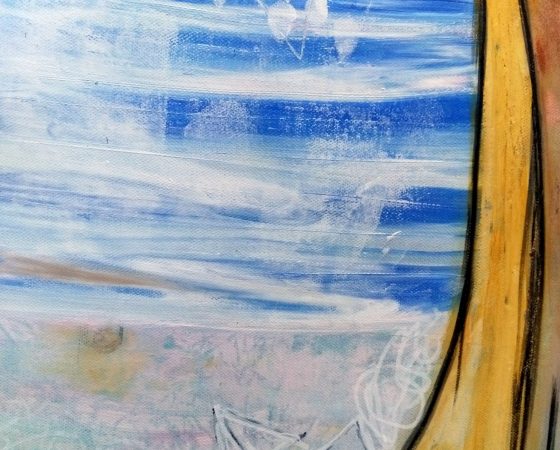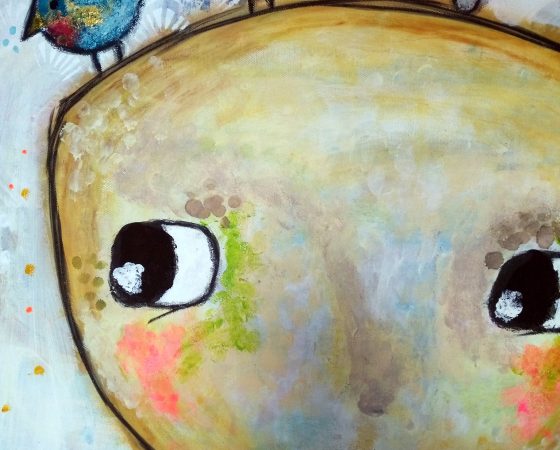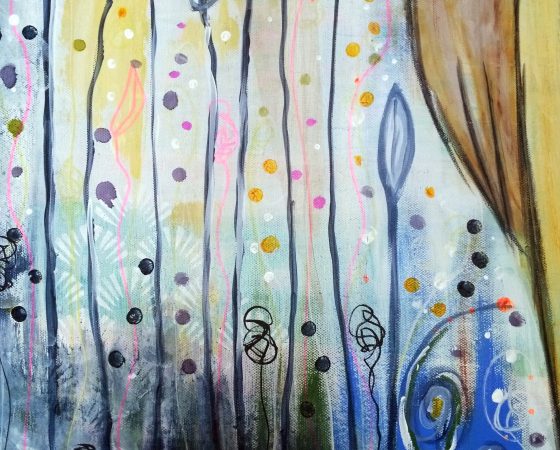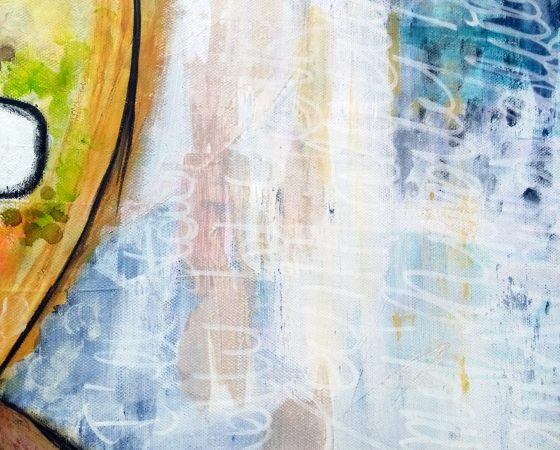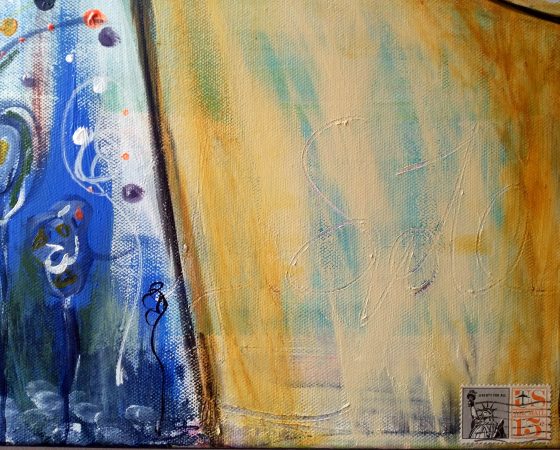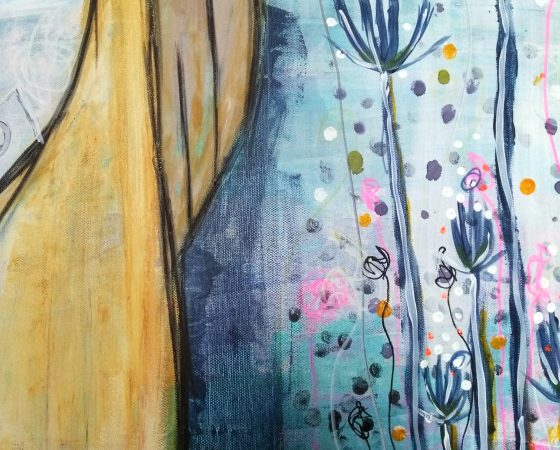 Mixed media painting (100x100 cm)
1200 €
© Sabyne