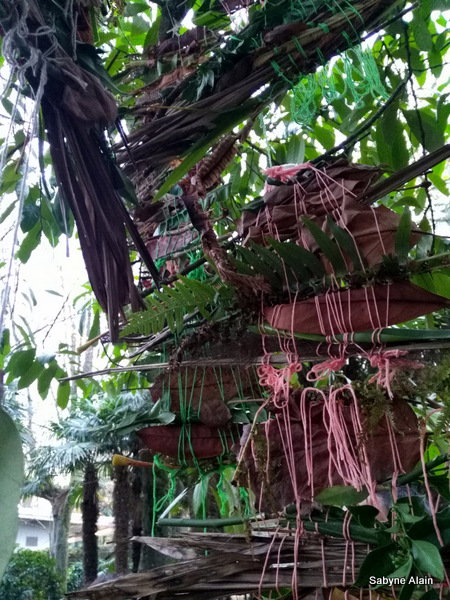 Durant la dernière quinzaine de formation BPJEPS, on a eu l'opportunité « d'animer nos pairs », à savoir, proposer une séance d'activité au groupe. On a eu droit à de l'animation scientifique, d'expression corporelle, à vocation culturelle, mon groupe et moi avons proposé de tisser à partir d'élément ramassés sur notre lieu de formation.
During the last fortnight of training BPJEPS, we had the opportunity to « animate our peers », namely, propose an activity session to the group. We tried scientific animation, body expression, cultural vocation, my group and I proposed to weave from element gathered on our place of formation.
Notre intention première était de créer une métaphore de notre année, à savoir, réunir des individus (les réalisations individuelles) en un groupe soudé (soit cette œuvre collective).
Our first intention was to create a metaphor of our year, to gather individuals (individual achievements) into a united group (this collective work).
C'était une drôle d'année que ce BP, ces 20 personnes que j'ai fréquentées quotidiennement ont pris une réelle importance à mes yeux, nous avons traversé tant de moments contrastés tous ensemble, on s'est épaulés, soutenus, bousculés parfois …
It was a funny year that the BP, the 20 people I saw daily took on a real importance to me, we went through so many contrasting moments all together, we were supported, supported, sometimes shaken …
Je suis retournée hier avec certains d'entre eux rencontrer la promotion de cette année et j'ai été émue de voir que notre oeuvre collective avait été laissée en place, d'une certaine manière, des petits bouts de nous sont restés là bas et veillent sur les lieux avec une attentive bienveillance.
I returned yesterday with some of them to meet this year's promotion and I was moved to see that our collective work had been left in place, in a way, the little bits of us stayed there and watch over the place with an attentive kindness